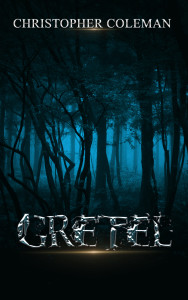 Alone. Frightened. Captive. If you hear someone approaching, RUN. She is not there to help you.
There is an ancient evil in the Back Country, dormant for centuries but now hungry and lurking. When it sets its sights on an unsuspecting mother one routine morning along an isolated stretch of highway, a quiet farming family is suddenly thrust into a world of unspeakable terror, and a young girl must learn to be a hero.
"A terrific read and a much scarier take on the classic tale of Hansel and Gretel."–Amie's Book Reviews
"Witches, terrible deeds, horrific battles with the good guys. A LOT of surprises."–Amazon Customer
"One of the best collections of strong female characters that I've seen in a long time."–Errant Dreams
"Good read on a dark night, especially if you are alone in the house. It'll creep you out."–Annie Flowers, Amazon Top 1000 Reviewer
230+ Rave Reviews, 4.3 star rating
Read an Excerpt from GRETEL:
And things took time. There was no patience in this modern world; everyone needed things now. And this System officer, Stenson, he seemed particularly hasty. She could see in the way he leaped for the spilled potion that he'd grown addicted to the idea of it. To the idea of immortality. It was a pattern she'd seen dozens of times in her past. No temperament to handle the wait. And as she'd also witnessed, the pursuit of the broth had caused his early expiration, an irony never lost on her.
But Stenson's death was unimportant. Nothing more than a mess to clean. Her aims were different now. She'd found the true serum. The one she'd heard whispered of in the Old Lands by her ancestors. The myth sought by all. She could stay young. Forever. She was strong again, of mind and body. And Life. She would reconnect with It. Control It as she once had when she was young and zealous.
She walked back to the kitchen and stood over the twisted body of Officer Stenson, which now lay still, dead. The witch's feet were planted irreverently in the remaining mixture on the floor, and she almost chuckled at the locked expression of fear and pain on the officer's face.
She kicked the left side of his body and heard the sound she was listening for—the jingle of keys—in his right pocket. She reached over and pulled the ring of keys free, and then dangled them in front of her face, smiling at the confidence she felt inside of her. It was almost impossible to believe what she was considering—no, not considering, what she was
going
to do.
The world now seemed a platter to her, a buffet of opportunity and treasure. Every second in this cabin now seemed a waste of the eternal time she now possessed. If even yesterday she'd been granted this opportunity, the opportunity to drive off in this machine, she would have certainly hidden from it, afraid of the technology she'd shunned for so long.
She'd driven a car in the past, in the days before secrecy and privacy had taken over her life, but it had been years, and she'd certainly never controlled anything like the monster parked outside. Yes, her old self would have spent days, weeks maybe, figuring out some method to dispose of the car without ever starting the engine or even getting inside.
But now the machine excited her and the thought of driving released a burst of saliva across her tongue. The energy under her. The power and speed at her control. And, most importantly, the utility of the thing. There were more sources to find before this day ended, and the car would help her find them.
It was time to hunt.